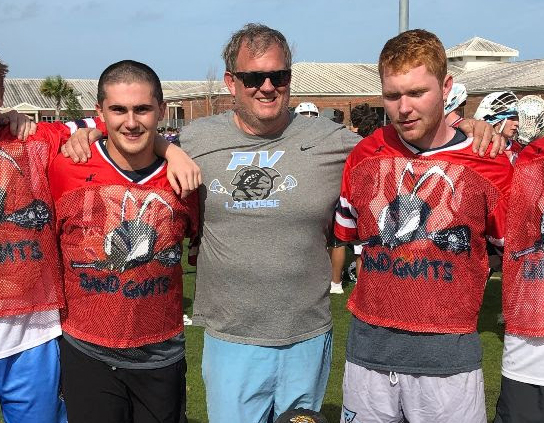 DIRECTOR OF COLLEGE CAMP/SHOWCASE PLACEMENT
Effective August 2021, Coach Tom West will take on a newly formed role within the Florida Crabs organization in addition to his 2024 coaching position. Tom will help players and their families identify future opportunities to develop to the next level of play. More information will be released soon!

Coach West is one of the most accomplished coaches in Florida high school boys lacrosse history. In the Spring of 2022, West reached his 400th win, placing him in a very exclusive Head Coaching club along with Coach Terry Crowley for number of wins. The previous Fall, West was named Director of Lacrosse and Varsity Boys' Head Lacrosse Coach at The Bolles School. Prior to this role, he led Ponte Vedra High School for 13 seasons with a record of 221-33. Under his watch, the Sharks won eight consecutive district titles, five regional championships and made two state finals. In 2019, Ponte Vedra went 24-1 to win the state championship and earn national recognition as a top team in the country. West was named the 2019 boys lacrosse coach of the year by the Florida Dairy Farmers Association, and LAXRecords.com named him national coach of the year.
West has spent 24 years as a college and high school lacrosse coach in Florida, with stops in Pennsylvania and Vermont. He has a long history of building programs. He started both the Ponte Vedra and Matanzas high school teams and on the club side he founded Team Florida Lacrosse and was a co-founder of the Florida Possums and Ponte Vedra Sand Gnats. After playing Division III lacrosse at Castleton University in Vermont, West served as an assistant coach at Norwich University and the head coach at St. Michaels College. Through his vast experience with club programs, West has connected hundreds of players in the Southeast with colleges and universities since 2005.
"Being involved with Florida lacrosse from its early roots and seeing the way it's grown has been a life changing experience and I am incredibly proud to see a sport I love grow the way it has," said West. "I'm looking forward to the opportunity with Florida Crabs to get some of these players in front of coaches who are from around the country so they can see what a powerhouse Florida has become. All these Florida lacrosse players are going to have a chance to play on a team together, travel to areas where lacrosse is a more developed level of play and find an opportunity to play college lacrosse somewhere - that's what this team is all about."
West will help lead Crabs' efforts to grow lacrosse in the Sunshine State, joining a club founded in 2018 to bring together the best players statewide. From his three decades building the original Crabs franchise in Baltimore into a national power, founder and CEO Ryan McClernan believes that experienced coaches like West are the route to increased national prominence for areas beyond the traditional hotbeds. The Florida Crabs will sponsor boys teams in the high school classes of 2021 through 2025 this summer and fall, giving Florida's best players the chance to learn from their peers and compete against the nation's best players.
Outside the lacrosse world, Coach West enjoys spending time with his wife Whitney, two children (Brody and Quinn) and their 3 dogs.